富士ゼロックスが創造的な働き方を可能にする高機能な複合機14機種を販売開始
Fuji Xerox Hits the Advanced 14 Multifunction Printer for Smart Works
富士ゼロックスはデジタルカラー複合機、ApeosPort-VII C / DocuCentre-VII Cシリーズ14機種の販売を開始。手間のかからない自動化機能によって、高機能を簡単に使いこなせるのが特徴。
Fuji Xerox launched their 14 Multifunction Printers of digital colors, it is the ApeosPort-VII C / DocuCentre-VII C series that can make smart work in every corporate office. This basically has enhanced features that is generated for easier access.  This unit has improved the sustainability of the quality production of the documents with a hassle-free and automated functions.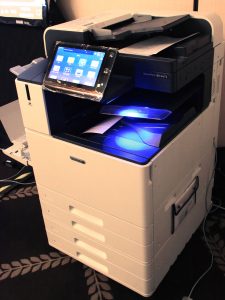 センサーがユーザを感知する機能やアイコンの機能別カラー表示、角度調整が可能な操作パネルなどスムーズかつ素早い操作性が際立つ。
It has a sensory switch that detects the presence of the person and automatically open; the visibility of the work icons has a clear and better color, easy to determine to which will you access and is flexible in adjusting the panel. Speed range is outstanding where the receptors can smoothly print your work in its most quality.
富士ゼロックスフィリピンの加藤社長自らがスマートフォンからのダイレクトプリントなど新複合機の機能を説明。給紙や紙詰まりなどにもスムーズに対応する機能が紹介された。
Demonstrated by Mr. Kato, the President of Fuji Xerox, showcased the highlights of the multifunction printer, which brag the seamless mobility of the device to where you can print photos and files through your phone in just a tap, mobile application is required to access. Through its sensory feature printing might be outrageous of all the noise it may bring to the office, in this, printing will be serene as it will be. Other than the noise control, paper jam is one of the problems in the printing process of the office setup which takes time and is hassle to the workers, but this will instantly detect where the problem is occurring and have an easier processing of your documents.
モバイル端末での操作やスキャンデータの翻訳機能、障碍者のための利便性など忙しい業務をより快適にするために様々な機能が搭載されている。
Busy working days that needed fast tracks of documents or papers may require a lot of process, so they've introduced new printing features that access AI or artificial intelligence that makes a machine more convenient that is most likely designed to talk to you. The file or documents that you need to print are easy to locate through digital with almost the same feature of a tablet. Even scanned documents can be translated to any languages to make it more flexible to users with different nationalities. Also, this printing device considers the accessibility for the persons with disability.
ネットワーク通信の安全対策、ハードディスクの安全性強化、2つのネットワーク回線の利用などより堅牢なセキュリティー環境を実現。
Confidential papers are also protected, all the scanned or printed documents will disperse after some time to avoid leakage. Completed with 360° data security the data privacy of both software and hardware is safe.
2019年1月11日より順次発売開始。
Fuji Xerox' ApeosPort-VII C / DocuCentre-VII C series is now available in the Philippines nationwide.